MEMBERSHIP CATEGORIES
***IMPORTANT****
STARTING SEPTEMBER 13, THOSE OLDER THAN 19 MUST HAVE AT LEAST ONE COVID-19 VACCINE DOSE. BY OCTOBER 24, YOU MUST BE FULLY VACCINATED. IF YOU WILL NOT BE FULLY VACCINATED BY THIS DATE, YOU WILL NOT BE ABLE TO REGISTER OR ENTER OUR FACILITIES FOR LESSONS, PLAY OR PROGRAMS. PROOF OF VACCINATION WILL BE REQUIRED.
---
Annual Membership (Oct 1, 2021 – Sept 30, 2022)- Registration will open on October 4 for waitlisted players registration. If you are on the watilist, you will be contacted via email a few days prior to registration.
*There is priority registration and a discount on the initiation fee for NEW members with proof of Burnaby residency.
Returning members please log into your accounts to renew your membership on September 12, 2021.
Click HERE to view full court booking rules.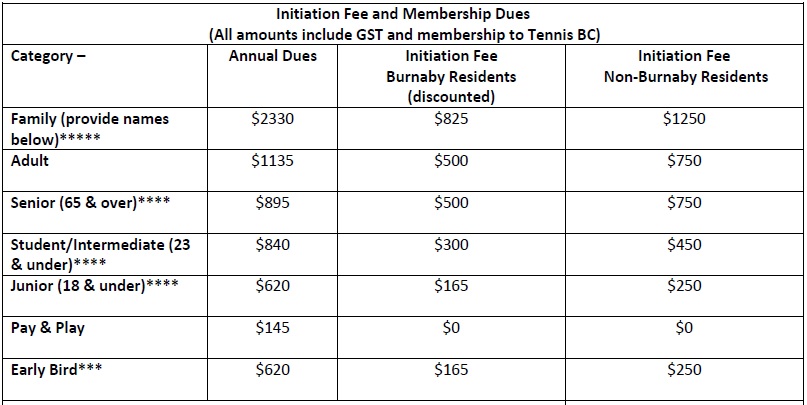 Membership Benefits:
Welcome All Levels of Players
6 Indoor Courts from October to end of April (7 months)
6 Outdoor Courts from May to end of September
Access to Clubhouse
Online Court Booking System
No Court Fees
Tennis BC Membership
Social Events
Organized Competitive Doubles (every Tuesday evening)
Organized Social Doubles (every Thursday evening)
Singles Ladder & Club Tournament
Men's and Ladies' League Teams
(Note: Full Membership members can play Early Birds at no extra cost) ​
Pay and Play Membership- Registration will open on October 1st, 2021 AT 8AM on a first come first serve basis
$145.00 per winter season (October – end of April)

Access to dedicated P&P court #1 up to 7 days in advance on a pay-per-use basis at the prevailing court rate

Access to court #2 Monday to Friday before 3 pm

Access to any court under 24 hours, if available

Online booking available, does NOT include Weekly Doubles play

Monday to Sunday

**NEW**

$30.00/hour during prime and non-prime (tax included)
Early Bird Membership- Registration will open on October 1st, 2021
Membership Benefits:
membership allows play during the indoor season from 7:00am to 9:00 am Tuesday and Thursday mornings only. (Doubles play or sometime singles ) This will be coordinated by BTC

the member will receive permanent booking for that time slot

No Online booking privileges or access to other court times. (Note: Full Membership members can play Early Birds at no extra cost)
Summer-only Membership (May – September) - registratin will open April 1st, 2022
Click here to for more information about Summer Memberships